Summary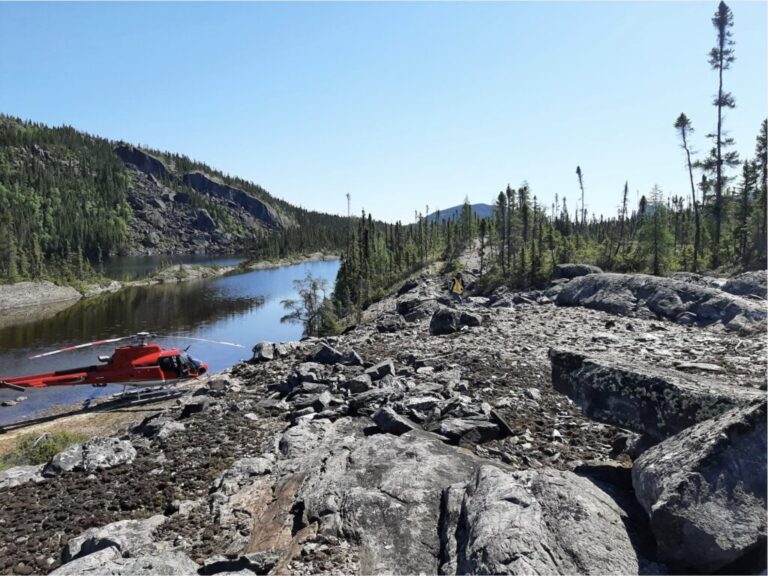 297 km2 district-scale land position prospective for sediment-hosted high-grade copper and silver mineralization with 44 km of strike length of the target stratigraphic horizon (Adeline Island Formation)
Strong geological comparisons with preferred epigenetic sediment-hosted copper deposits such as Udokan (estimated reserves of 1.2 Bt at 2% Cu)
Robust early-stage exploration database including Mag/IP/Resistivity and over 250 copper samples assaying as high as 26.9% Cu
Pipeline of exploration targets at different stages of development including two drill-ready targets at two key prospects, one of which has returned an encouraging intercept of 1.76% Cu and 58.2 g/t Ag over 7.9 m on the edge of a large chargeability anomaly (2011, Playfair hole SL-11-10)
Project located close to road, rail, and power infrastructure and within 500 km of the Sail Pond project allowing for strong economies of scale for exploration
Location and Ownership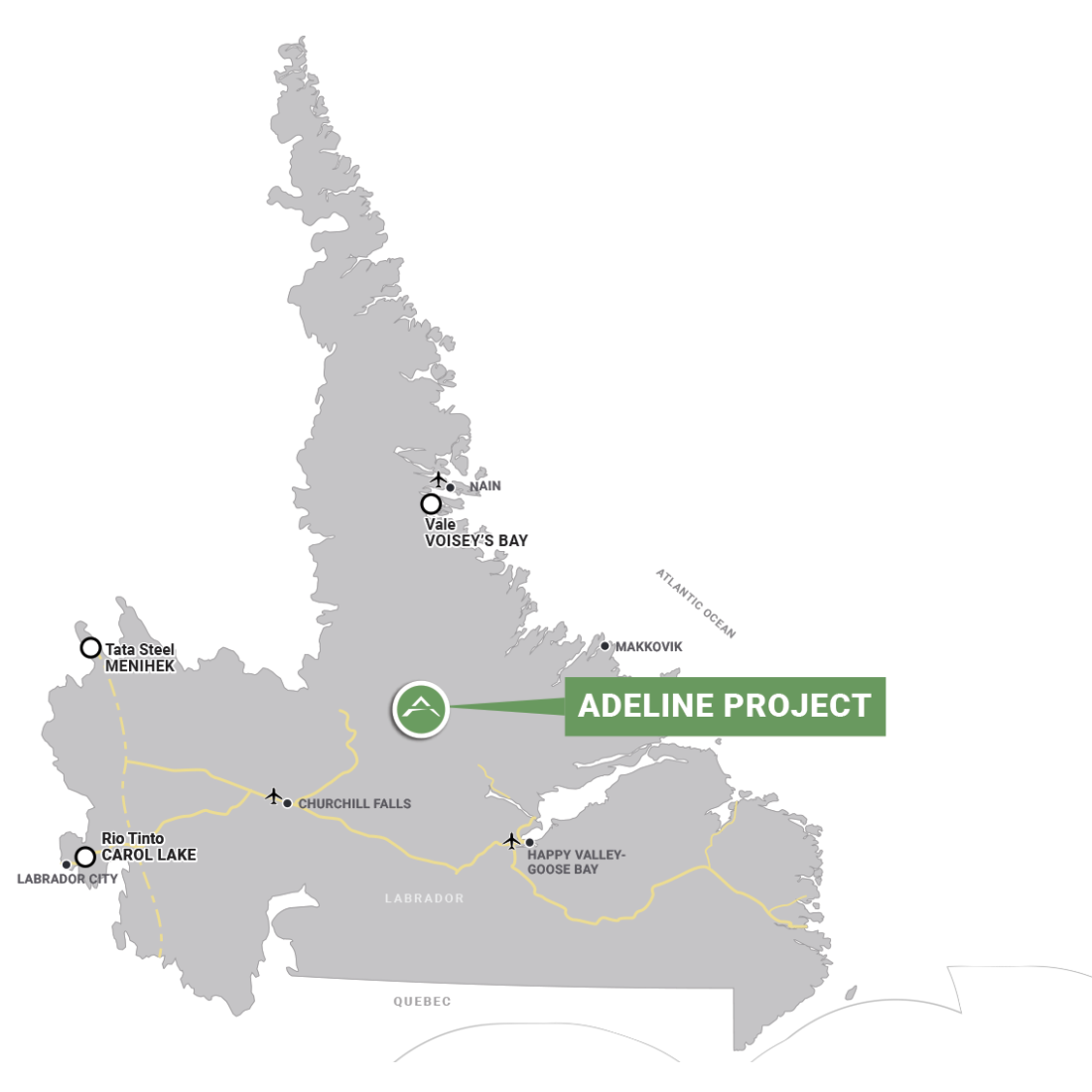 29,700 ha Adeline Project located in the prolific Central Mineral Belt in Labrador, Canada
The project is well located, within easy helicopter reach of the services hub of Goose Bay
There are several substantial mines in Labrador, and the province is served with good infrastructure
The Trans-Labrador highway is around 70 miles away from the project site, a hydro access road is 38 miles away. The 5,428 MW Churchill Falls power station is 112 miles away
Adeline is located at northern midlatitude with average Celsius temperatures ranging from -15 in January to 20 in July
Option to own 100% interest. C$400,000 and 4.5M shares paid with an additional C$400,000 and 4.5M shares due by Nov 2024
Geology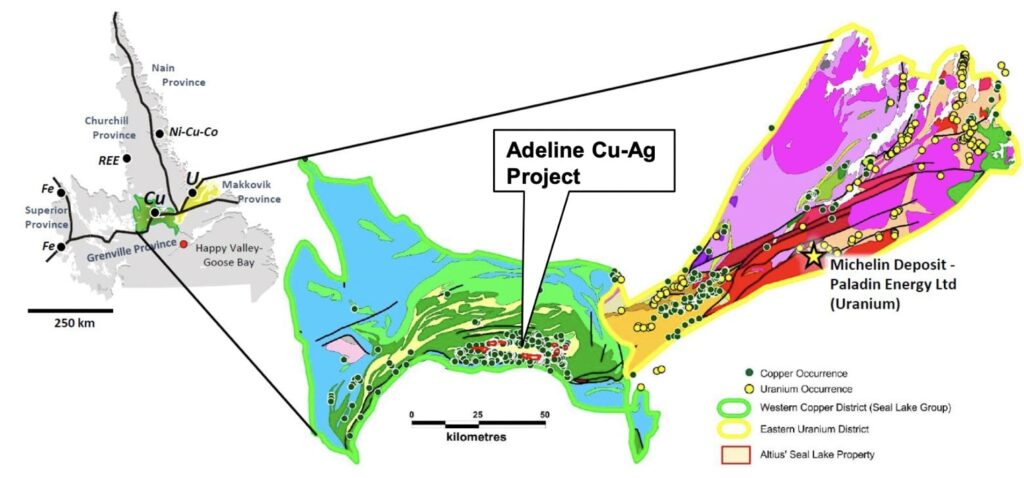 One of the few Proterozoic basins in the world that has not been systematically explored
The CMB is a globally significant Cu-U province located at a triple junction between three geological terranes
260 km long belt endowed with high-grade copper, uranium, silver, REE and molybdenum showings
The western part of the CMB is dominated by copper occurrences hosted within the Seal Lake Group (Adeline Project)
Copper showings are principally found in the Adeline Formation grey beds and underlying Salmon Lake Formation basalts
Copper mineralization is product of regional fluid flow caused by basin inversion tectonics during Grenville Orogeny and is concentrated where key structures focused fluid flow into stratigraphic redox traps
Ore grades and thicknesses have been established at several prospects; e.g. 7.9m @ 1.76% Cu, 56.2 g/t Ag

Stratiform sediment-hosted copper (SSC) deposits
SSC deposits worldwide rank second only to porphyry copper deposits in copper production.
SSC deposits are associated with evolving regional/ basin-scale fluid-flow systems and are typically hosted within intracontinental rift-related sedimentary sequences.
Generally, the basin-derived fluids circulate through an oxidized (red-bed), aeolian to evaporitic assemblage, overlain by a reduced shallow marine transgression, accumulation of shales, carbonates or evaporites.
The connate oxidized fluids circulating during basin evolution leach out the copper from, in the Seal Lake group, a most likely source of basalt flows of the Salmon Lake Formation, and precipitate in the more reduced grey bed facies.
The ore deposits generally are zoned, usually to a district scale and characterized by barren/hematite – native copper – chalcocite – bornite – chalcopyrite – Pb/Zn/Co sulfides – pyrite.
Zonation within the Adeline project is present on a local scale at various showings.
Mineralization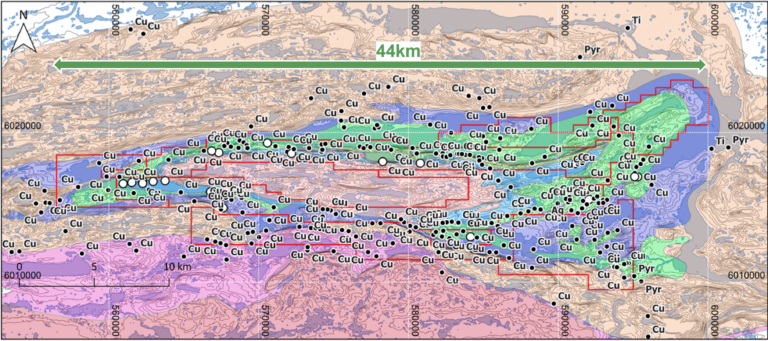 More than 250 documented copper showings (government image) occur mostly in the Salmon Lake and Adeline Island Formation. Host rocks for mineralization include shale, slate, basalt and gabbro of the Salmon Lake Formation, and slate, shale, phyllite, sandstone and gabbro of the Adeline Island Formation.
Copper mineralization at Adeline is structurally controlled, and commonly associated with quartz +/- carbonate veins in a manner similar to that at Udokan, Russia, and is greatly influenced by the oxidation state of the various rock types (oxidized vs reduced) (Altius, Seal Lake Copper Project Technical Report, 2015). The mineralization occurs in two distinct styles:
As bedding, foliation and cleavage parallel, fine-grained disseminated masses of chalcocite ± bornite ± chalcopyrite that grade into stratiform lenses of similar composition in the grey, green to black shales. Also present are chalcocite ± bornite ± chalcopyrite stringers and quartz-carbonate veins in diabase and basalt, as well as in the grey, green to black shales, arenite and phyllite (reduced "grey beds").
Native copper-bearing quartz-carbonate veins within the red slate and/or strongly hematized basalt units of the Salmon Lake, Whiskey Lake and Wuschusk Lake formations.
The sediment-hosted copper deposit class is attractive as it can yield orebodies that host large tonnages similar to porphyry copper deposits but with significantly higher grades, an example of which is KGHM's Lubin Mine in Poland, the most significant mine in the Kupferschiefer copper district, in production since 1968 and hosting 2.6 billion tonnes of ore grading 2% copper.
At Adeline, both the geological setting and the style of copper mineralization suggest a favourable environment for hosting sediment-hosted stratabound copper deposits.
Grey Bed Hosted Mineralization
Disseminated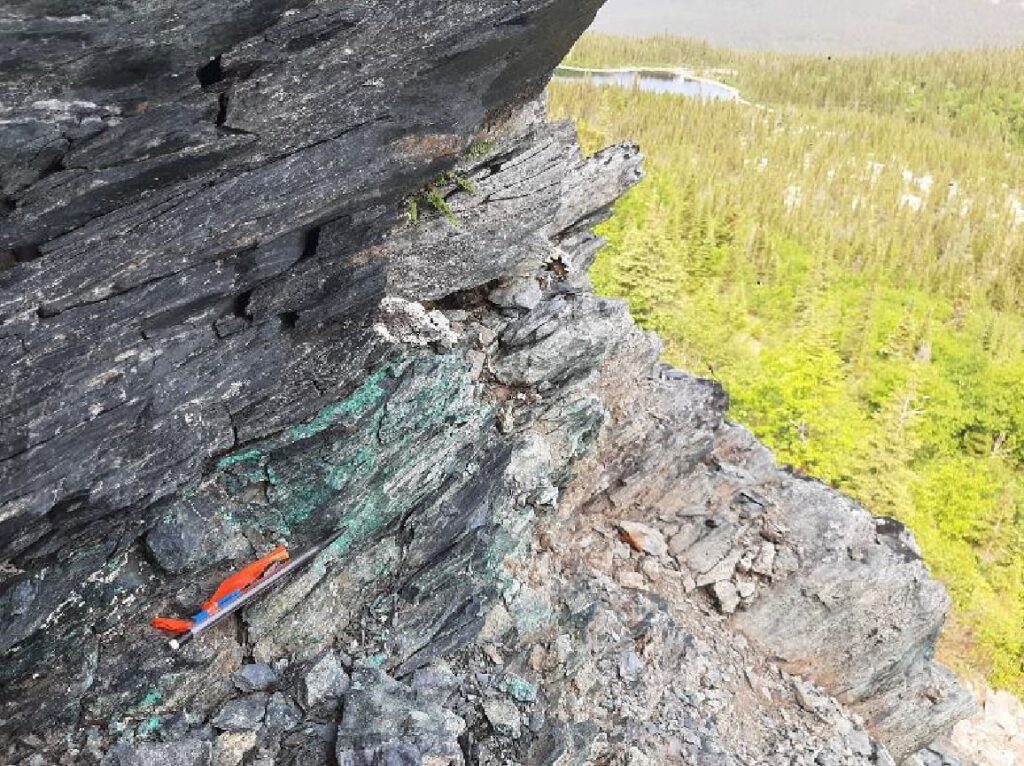 Strongly foliated grey shales/slates with mineralization either transposed into fabric or emplaced parallel to fabric and then modified. The mineralization consists predominantly of malachite ± azurite after disseminated bornite ± disseminated chalcocite and minor chalcopyrite [e.g. S. Adeline Mountain –South (left photo) Whiskey Lake 64 (right photo)].
Within Veins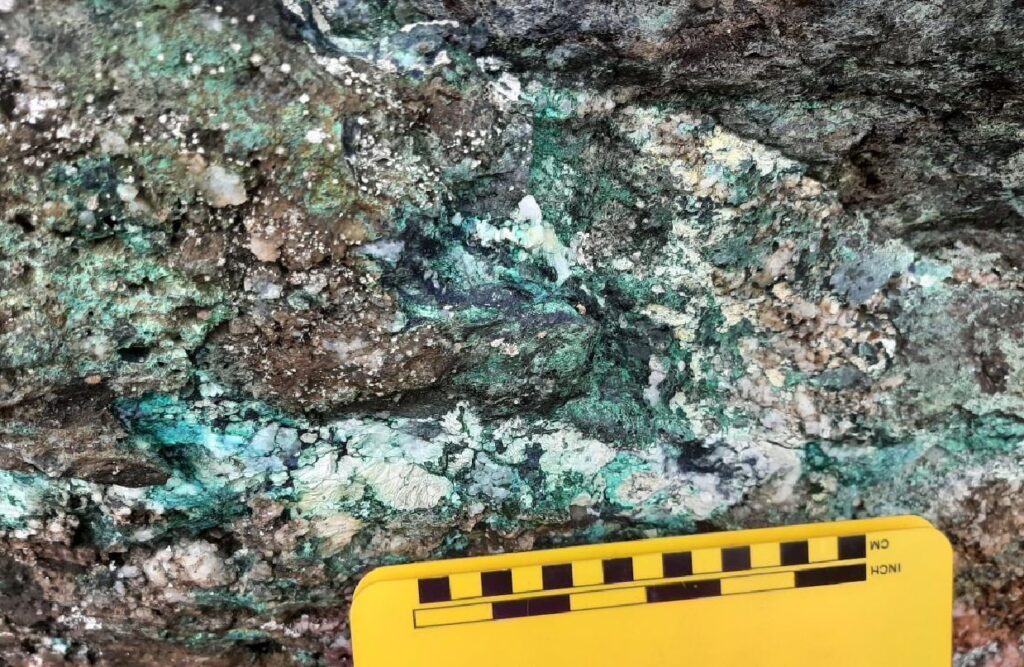 Strongly foliated grey shales/slates with mineralization hosted within or along boundaries of quartz veins that can be boudinaged within regional foliation. The mineralization consists predominantly of malachite ± azurite after being disseminated to locally massive bornite ± disseminated chalcocite (e.g. Adeline Island and South Adeline Mountain).
Mafic Volcanic Hosted Mineralization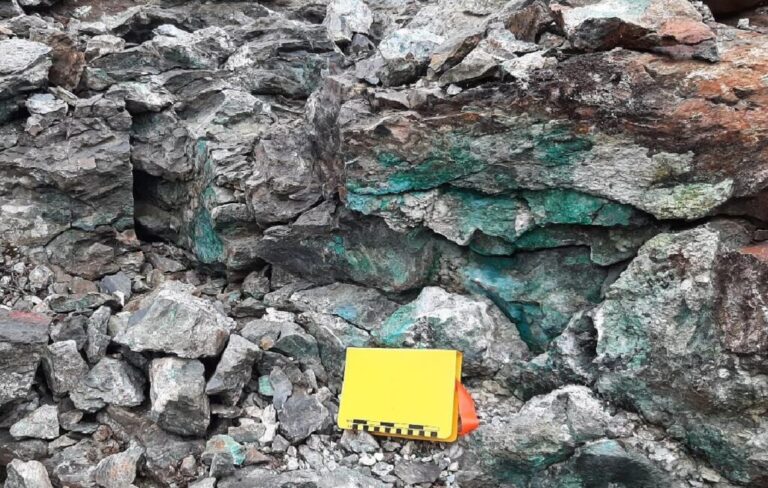 Mineralization is predominantly in quartz-carbonate veins in foliated basalts and along structurally controlled sites such as joints and/or foliation. Copper is present as native copper and locally in malachite and bornite minerals (e.g. Whisky Lake 150 and Salmon Lake Main).
Grey Quartzite Hosted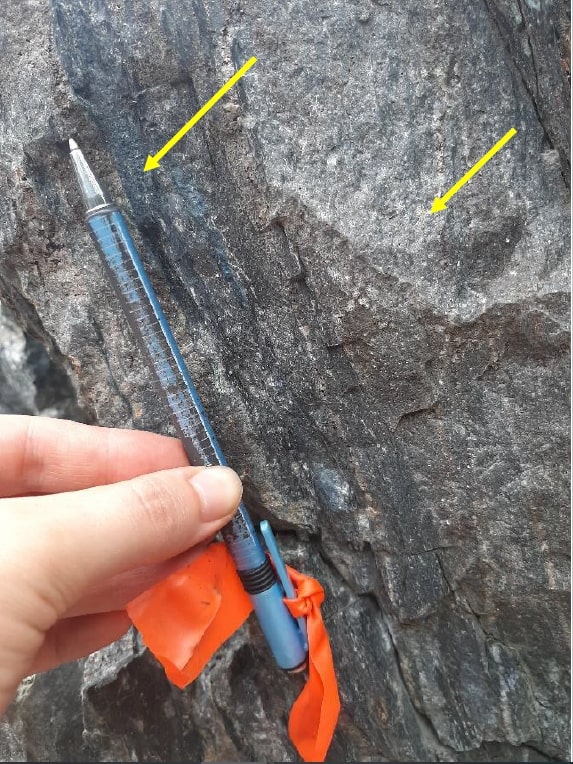 Host rocks are weakly foliated grey quartzites in close proximity to contact with grey shales/slates. Mineralization is associated with foliated zones near contacts with quartzite or disseminated within the host quartzite matrix with no direct foliation control (e.g. Ellis Main and Adeline Island)
Ellis Cu-Ag Prospect
The Ellis Main prospect is exposed in a series of 11 trenches along a steep cliff face south of the western end of Seal Lake. Chalcocite-bornite occurs in association with quartz-carbonate veining within grey phyllite-slate of the Adeline Island Formation. The strongest mineralization occurs across a width of approximately 3-4 m (Altius, Seal Lake Copper Project Technical Report, 2015).
Individual historic grab samples:
4.88% Cu and 192 g/t Ag (Altius 2015)
4.02% Cu and 90.7 g/t Ag (Altius 2015)
3.92% Cu and 166 g/t Ag (Altius 2015)
3.54% Cu and 87.1 g/t Ag
Historic Drill intersections:
From 90.6m intercept: 7.9m @ 1.76% Cu and 56.2 g/t Ag (Playfair hole SL-11-10)
From 57.6m intercept: 4.3m @ 1.69% Cu & 51.8 g/t Ag and from 66.5m intercept 2.1m @ 1.66% Cu & 45.6 g/t Ag (Kennco hole K-10)
From 92.4m intercept: 0.9m @ 1.08% Cu & 19.2 g/t Ag (Kennco hole K-12)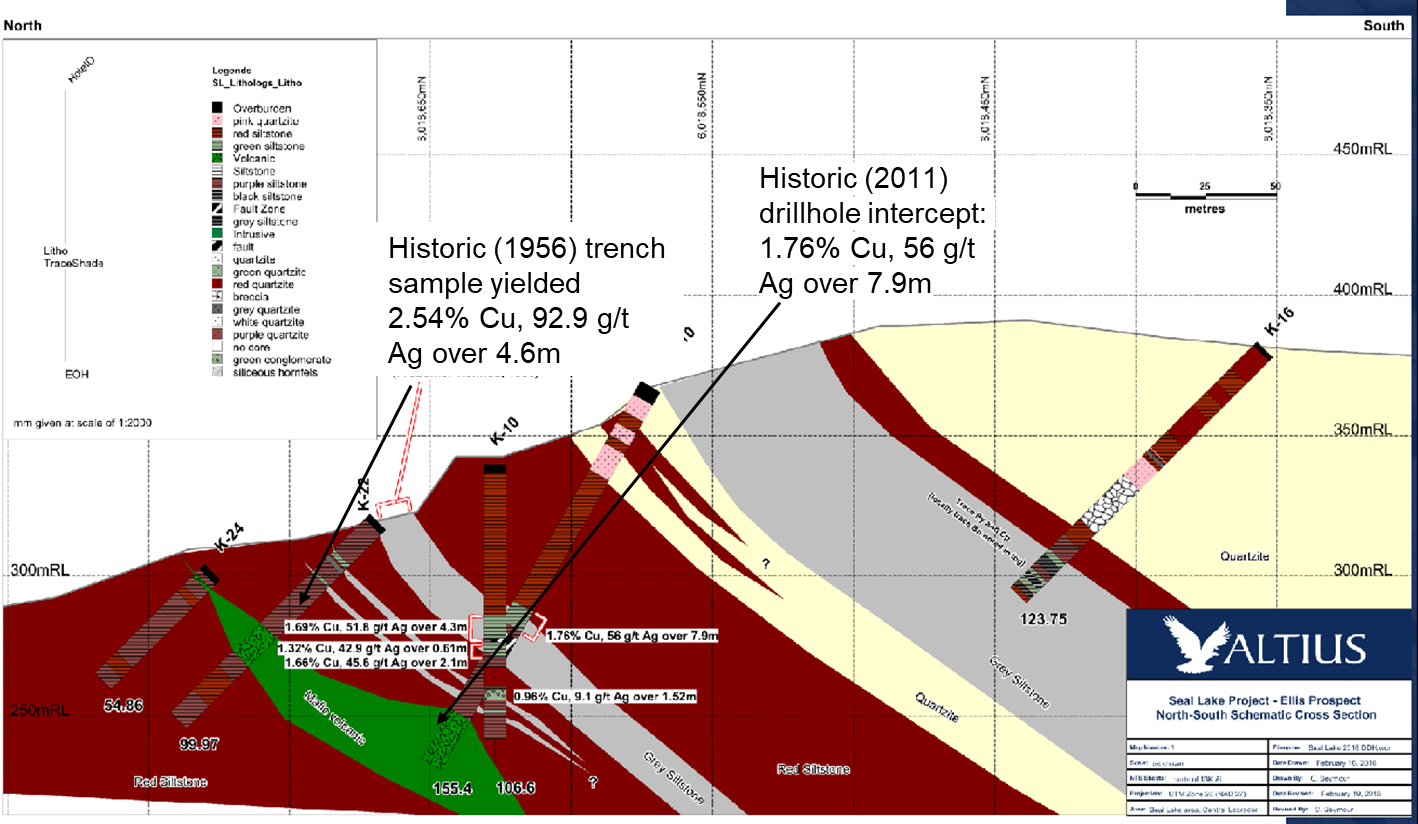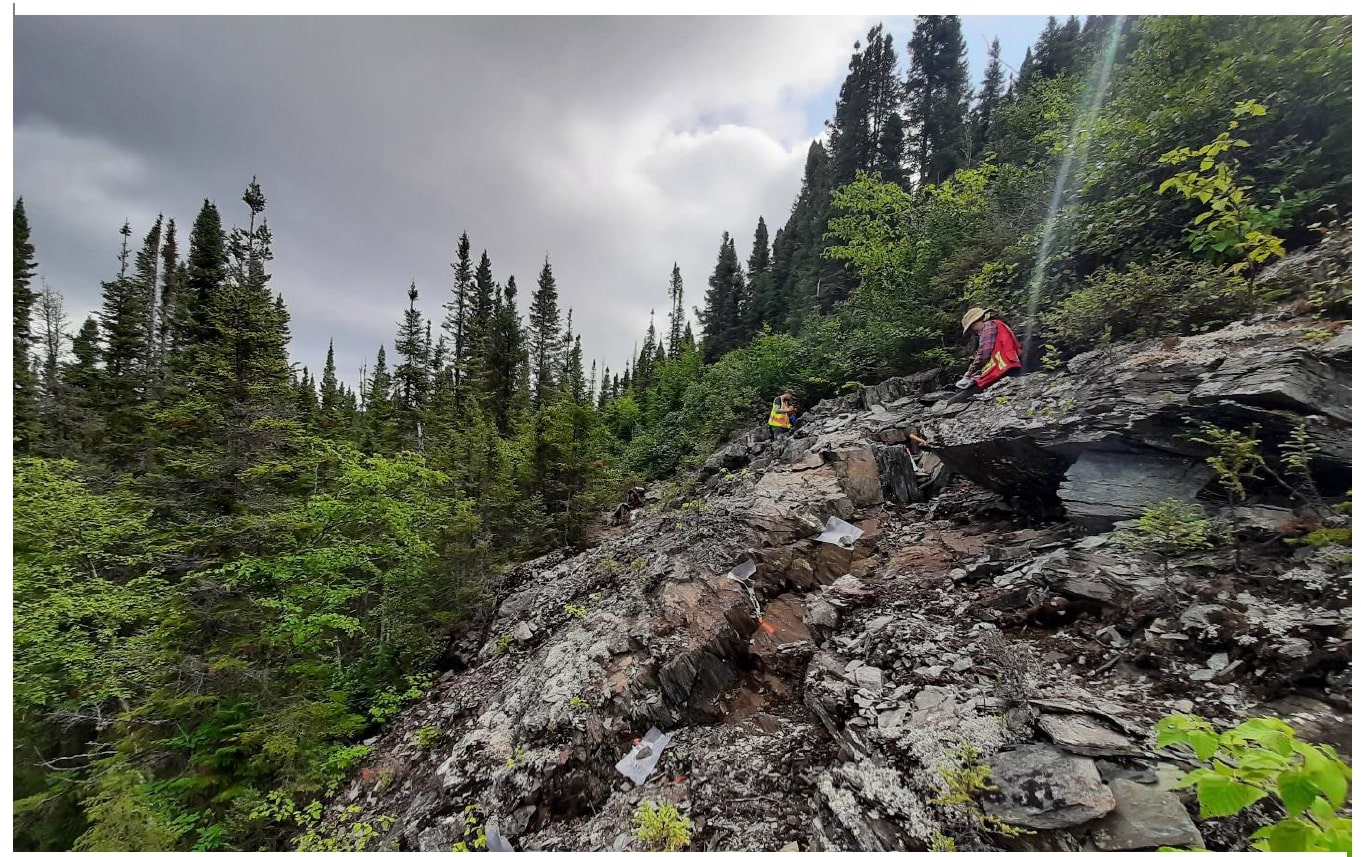 Exploration History (Prior to Altius)
Extensive documentation of 200+ Cu showings
Historic drilling limited to shallow prospect drilling and regional "wildcat" drilling
Good regional coverage of geochemistry and airborne geophysics
Excellent geological survey mapping and studies to understand ore formation controls
Numerous untested targets with open extents of resource grades & thicknesses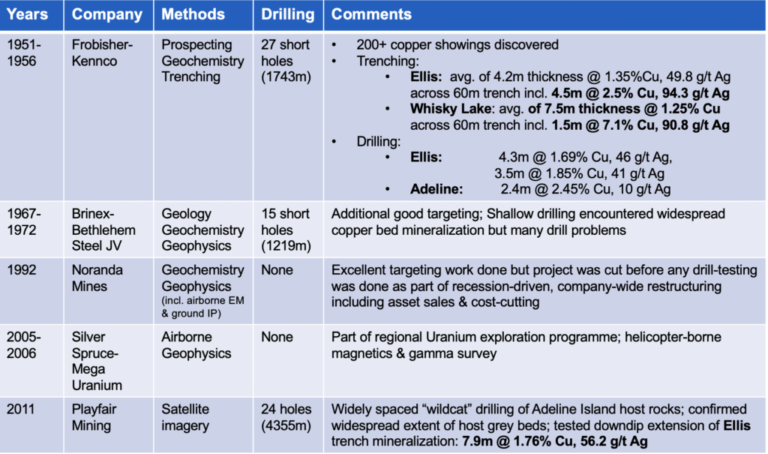 Qualified Person's Statement
Jeremy Niemi, P.Geo., Senior Vice President of Exploration and Evaluation to Sterling Metals, and a Qualified Person within the meaning of National Instrument 43-101 Standards of Disclosure for Minerals Projects, has reviewed and approved the technical information presented herein.