Summary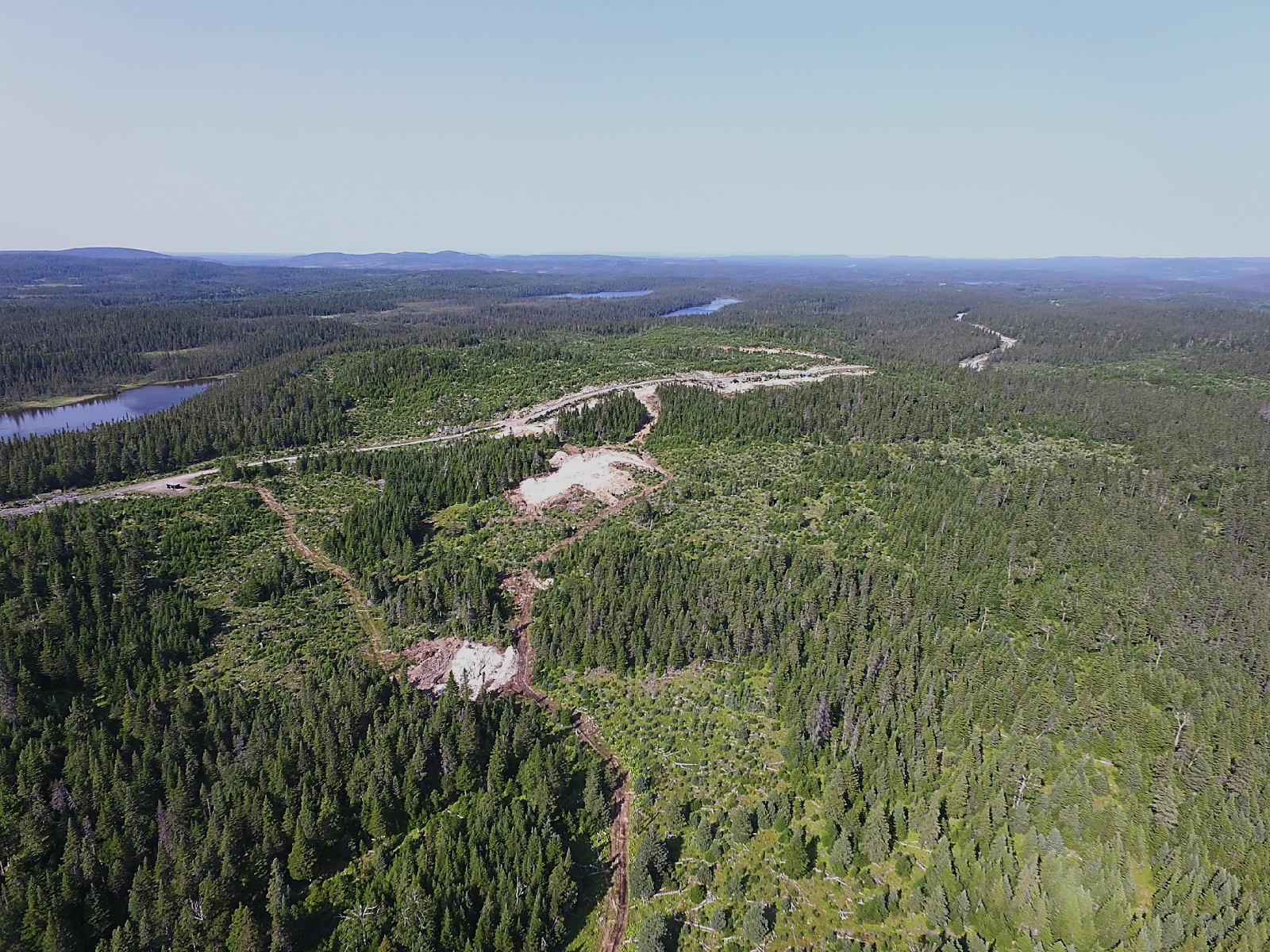 High-grade, silver, copper, lead and zinc associated with quartz-carbonate veining
First discovered in 2016 with ~$7,600,000 spent to date
12 km linear soil anomaly with grades in soil of up to 657 g/t silver and 0.68% copper
Rock sample analysis from trenching of up to 4526 g/t silver, 14.9% copper, 7.5% lead, 9.6% zinc and 0.9 g/t gold
16,000m of drilling has led to 400m x 200m x 150m Heimdall zone within a 1km footprint of near surface high grade veining
Orion survey shows several highly chargeable targets below high grade veining and in line with Heimdall trend lines
Large project area (13,500 Ha), road accessible and with nearby services and airport
100% owned. 2% NSR.
Location and Ownership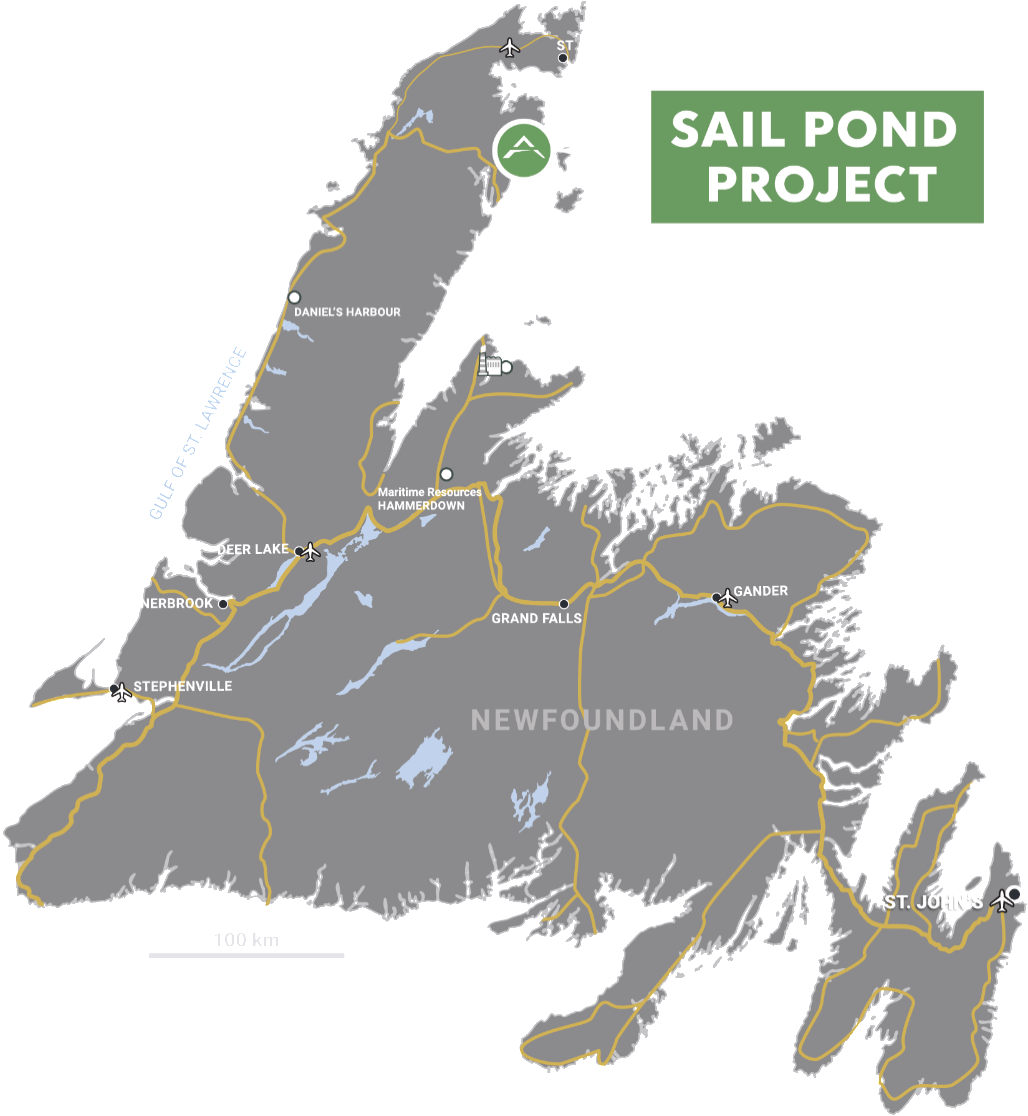 13,500 Ha project located on Newfoundland's Great Northern Peninsula, eastern Canada
Easily accessible by a series of paved highways, forest access roads and trails
Adjacent to many regional services and within 32 km of the St. Anthony regional airport
100% owned. Subject to a 2% NSR
Geological Setting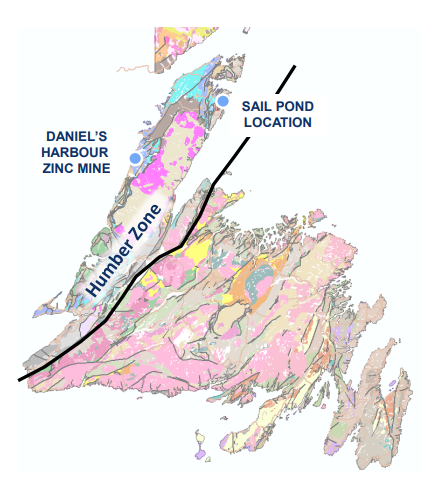 High-grade Ag plus Cu-Pb-Zn-Sb (± Au) mineralization found at Sail Pond unique for eastern Canada
Laurentian Margin – Humber Tectonostratigraphic Zone
Geology records a prolonged geological history as part of the Appalachian Orogenic cycle
Active to passive margin environments represented by Early Cambrian to Middle Ordovician rift-related siliciclastics to platformal carbonates
Parautochthonous and allochthonous displacement resulting in westward verging folds, NE orientated thrust faults, and shear zones
Dominantly carbonate-hosted Zn ± Pb, Ag occurrences in the region; e.g. Daniel's Harbour – 7 Mt @ 7.8% Zn (mined between 1975-1990); minor Cu occurrences
Mineralization is stratabound; occurring in brittle deformed Lower to Mid-Ordovician dolostone; restricted to the western portion of the White Arm Window doubly plunging anticline; bounded and adjacent to major thrust/shear zones
Mineralization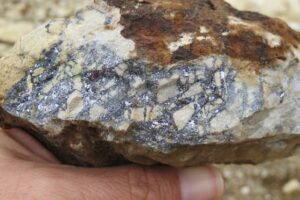 High-grade Ag plus Cu-Pb-Zn-Sb (± Au) mineralization within four major zones along a 14 km trend; up to 200 m wide; remains open to the north, south, and at depth
Primary sulphide species include tetrahedrite, sphalerite, galena, and boulangerite; secondary (supergene) minerals include chalcocite, bornite, covellite, and malachite
Silica ± calcite ± sericite alteration
Mineralization is generally within, or spatially associated with quartz-carbonate veins, occurs as open-space infilling (clots), disseminations, vein-parallel massive bands or veinlets, and as solution breccia matrix replacement
Centimeter to meter-scale width quartz-carbonate veins form a conjugate set of steeply dipping veins that are oriented NE-SW, cross-cut by E-W veins; related to D2 (transtensional) and D4 (compressional) deformation events
Strong correlation of Cu, Pb, and Zn over a combined strike length of 12km tells a story of a large system
Heimdall Zone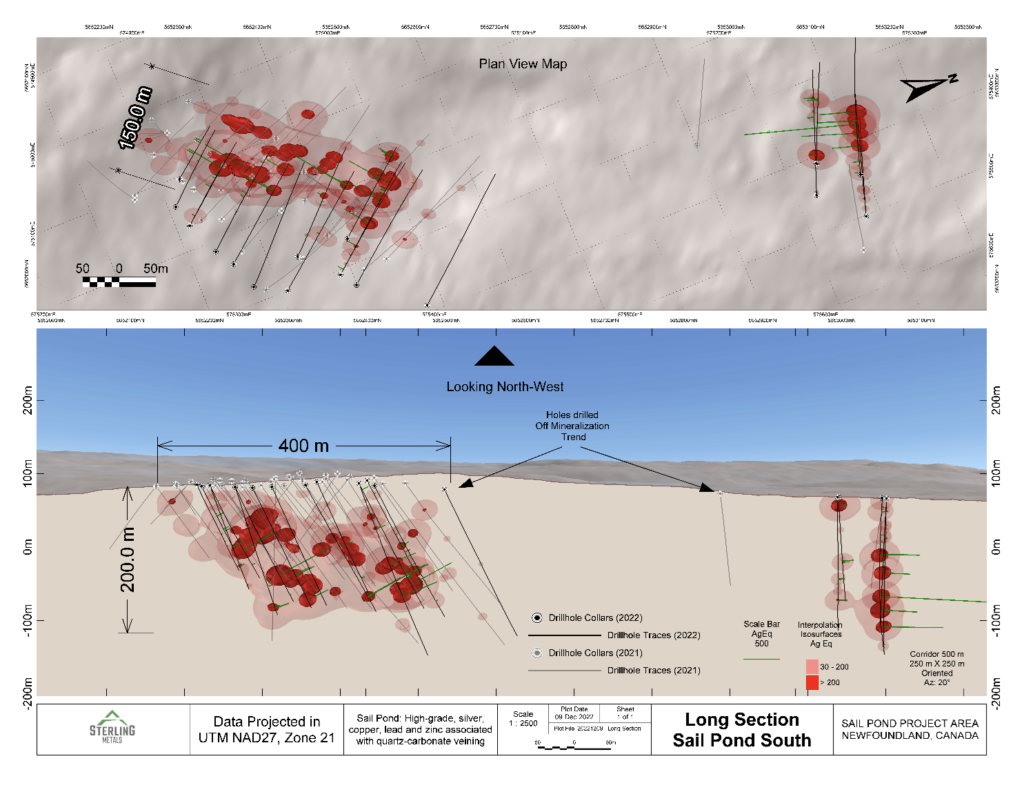 Over 7,500 meters of drilling has defined the Heimdall Zone
Heimdall footprint consists of a 400 m x 200 m by 150 m zone of mineralization
A new zone, Heimdall North was located 500 m to the north, resulting in one of the highest-grade intervals seen to date
The gap between the two zones remains open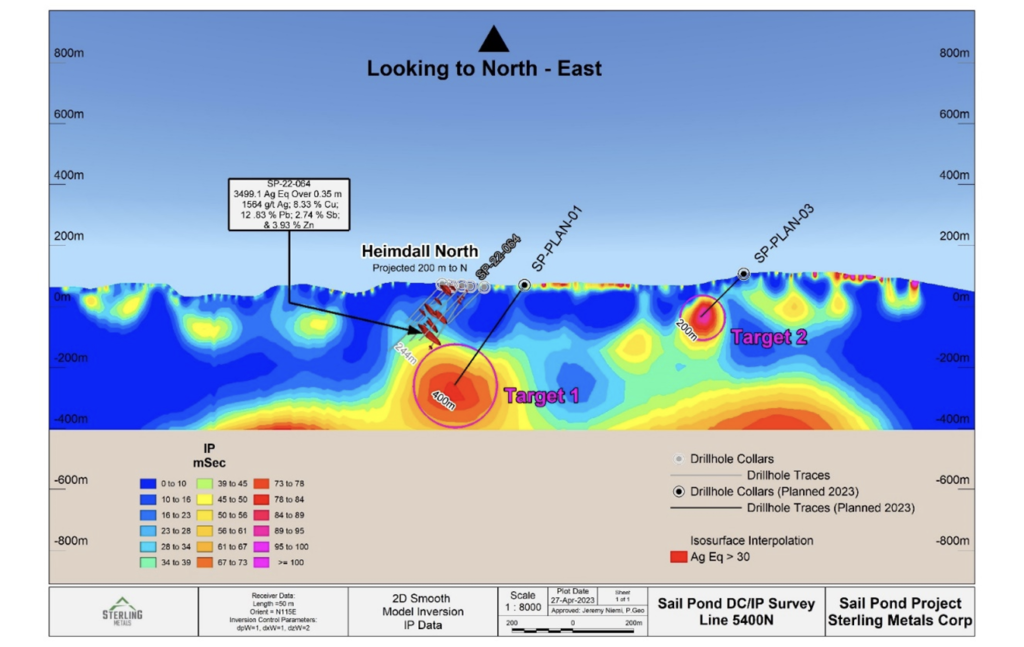 4 new exploration targets discovered.
Favorable geology mapped to depth of 2 km.
Strong anomaly beneath newly discovered Heimdall North Zone and SP-22-064.
Surveyed 1.5 km of 14 km trend as a test before large-scale application.
Drilling underway.
Qualified Person's Statement
Jeremy Niemi, P.Geo., Senior Vice President of Exploration and Evaluation to Sterling Metals, and a Qualified Person within the meaning of National Instrument 43-101 Standards of Disclosure for Minerals Projects, has reviewed and approved the technical information presented herein.